As winter settles in, there's nothing quite like the feeling of curling up in a warm and relaxing space. Cold temperatures make staying indoors even more appealing, and switching up the look of your space can set the foundation for a truly memorable season. These creative winter decor tips can help you transform your home into a cozy haven this season.
Embrace warm and earthy colors.
When it comes to winter decor, color choice is pivotal in creating the right ambiance. Think deep, rich, and earthy tones such as burgundy reds, forest greens, and chocolate browns. These warm colors instill a sense of comfort that's perfect for the season.
Layer up with textiles.
A fundamental aspect of winter decor is the use of textiles to add layers of comfort and warmth. Soften your surroundings with plush blankets that beckon you to snuggle in. Scatter your furniture with an assortment of throw pillows in complementary colors—every surface should feel inviting. Don't forget about the floor—add fluffy area rugs to keep your toes toasty and enhance the overall vibe.
Bring nature indoors.
Winter decor often draws inspiration from the natural world. Incorporate elements of nature such as pine branches, holly berries, and twigs into your decor scheme. Place them in vases or use them as part of table centerpieces to add rustic charm to your home.
Add cozy lighting.
The right lighting can significantly impact the atmosphere of your home. Swap out cool, harsh lighting for warm, soft, and dimmable options. Add candles to create a magical ambiance that's perfect for winter evenings.
Create a focal point with a fireplace.
If you happen to have a fireplace, it's time to make the most of it. A crackling provides physical warmth, sure, but it also creates a charming focal point in the room. Decorate the mantel with winter-themed accents like pinecones, candles, and seasonal greenery to enhance the cozy ambiance.
Layer your bed.
Your bedroom deserves a winter makeover too. Layer your bed with extra blankets, flannel sheets, and plush duvets to create a cocoon of warmth. Add decorative pillows in wintery patterns to make your bed as visually inviting as it is comfortable. It's a welcoming retreat for cold nights, and it sets the mood for restful winter slumber.
Incorporate seasonal scents.
The power of scent cannot be underestimated when it comes to creating a welcoming atmosphere. Consider using seasonal scents like cinnamon, vanilla, or fir to make your home feel cozier. You can achieve this through scented candles, essential oil diffusers, or potpourri.
Prepare a cozy reading nook.
Transform a corner of your home into a cozy reading nook where you can escape into a good book during the winter months. Place a comfortable armchair or create a window seat complete with soft cushions and blankets. Add a side table for your favorite hot beverages and books, creating the perfect spot to unwind during winter evenings.
Don't forget the outdoors.
Extend your winter-inspired decor to your outdoor space to create a nice space even before guests step inside. Hang fairy lights on your porch or balcony, adding a touch of whimsy and warmth to your outdoor space. A festive wreath on your front door welcomes visitors, while lanterns with flickering candles can illuminate your garden, creating a magical ambiance for all to enjoy.
---
---
Decorate
Access design inspiration that infuses personality and culture into your spaces.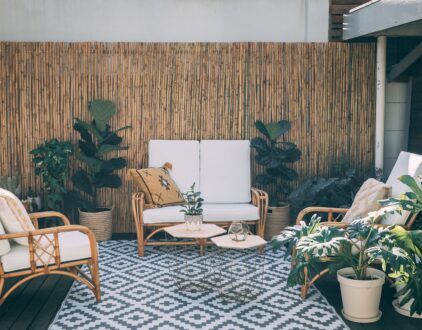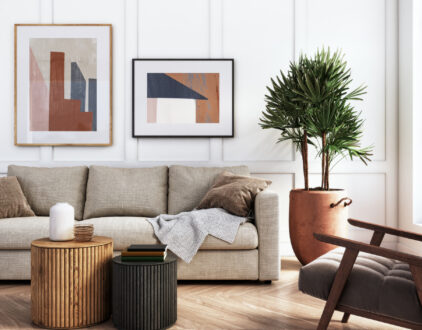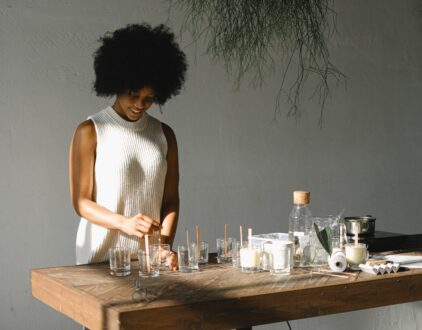 ---
Spaces
Whether it's luxury or ease, every area of your home should be as fabulous and unique as you.
FOLLOW ALONG ON INSTAGRAM
Find us on social for more home inspiration where culture, personal style, and sophisticated shopping intersect to help you create a home where you love to live.