Black homes have a legacy, and AphroChic helps you celebrate it.
Husband and wife team Bryan Mason and Jeanine Hays are the creators of the popular Instagram account AphroChic. The account serves as a destination for people who want to find ideas on how to bridge home decor with their identity. Their newly released book, "AphroChic: Celebrating The Legacy of The Black Family Home," takes a deep dive into what homeownership means to Black families.
View this post on Instagram
Owning a home is part of the American dream. Statistically, Black people continue to face uphill battles with home buying. Between systemic, racist practices and real estate redlining—the act of segregating people by class and neighborhood, the American dream can be a nightmare for many Black people. But whether you rent or own, there is no doubt you want to make your space a place where you and your loved ones feel comfort and love.
Black Homes: When Ownership is an Act of Resistance
Mason and Hays highlight the struggle Black people face with homeownership. They also discuss how owning a home can be an act of radical resistance. One couple featured in the book shared that their home was previously owned by a man who stated, on record, that he never wanted a Black person to own his property.  Even though it took some time, the couple persevered and now their home is a sight to behold.
Black Families and Heirlooms
The concept of heirlooms is another theme covered in the book. When you think of heirlooms, you think of valuable pieces that are passed down from generation to generation. In an exclusive interview with Home & Texture, Mason and Hays expounded on their thoughts about heirlooms and what that looks like for Black people.
"Heirlooms, like so many things in the Black family home, serve multiple purposes, but they speak directly to the need for memory," Mason and Hays said. "They help us to keep in view the road that has been traveled by those who came before to get us to where we are now, and by extension help us to understand who we must be as we travel our own roads for those who will come after."
If You Don't Have It, Start It
Don't let your lack of owning any family heirlooms deter you. That's not the only way to celebrate your cultural heritage in your home.
"Beginning a tradition of heirlooms and inheritance is a wonderful thing. We certainly encourage people to either continue, contribute to, or be the starting point for one in their own families. We're often encouraged to think of heirlooms in terms of monetary value, expecting an heirloom to be something worth money that comes to be worth more money as it ages. It is one way to look at things, but if the function of an heirloom is to bring a sense of memory to the home, continuing a feeling of connection with those who have gone on or times and places past, then there are larger set of factors to consider," Mason and Hays confirmed.
After reading the book, the Home & Texture team decided to find items to help homeowners design a space to reflect their identity. Check out these items we found, you won't be disappointed.
Jump to Products
---
AphroChic: Celebrating the Legacy of the Black Family Home
This interior design book puts Black culture in a unique, vibrant perspective. It offers tips for aspiring, new and seasoned homeowners. You'll find a number of home interior styles from celebrities and creatives, such as actress Danielle Brooks and author Jason Reynolds. After reading this book, you'll feel more confident about decorating your home. If you ever wanted to incorporate Black culture furnishings into your space or just want your home to represent your family's lineage, this book gives you all the information you need to bring your dream to life. It also has a beautiful cover, which makes it a perfect table accessory.
1989 Vintage Copenhagen Jazz Festival Poster
In "AphroChic," New York Times Bestselling author, Jason Reynolds, showcases his home by bridging the gap between the overlooked treasures from yesterday with futuristic ingredients that explode with color. This original Copenhagen Jazz Festival poster from 1989 does the same. Jazz is an American original art form and it should come as no surprise that it was created and pioneered by Black people. Jazz has and continues to not only influence other genres of music but culture, fashion, and other forms of art and media. This art poster is fluid in color and history and will make a great addition to any study, entryway, or living space.
Red Woven Geometric Area Rug
Who doesn't love a beautiful, eye-catching rug that will pull your room together instantly? In many cultures, red has a significant meaning. It could mean violence, sacrifice, love, and even death. This earth-tone rug has interesting geometric shapes that will instantly upgrade a room you feel lacks personality or flair. This beautifully woven rug can complement a number of contemporary, modern as well as retro, and futuristic decor furnishings. This rug is stain resistant, so you don't have to worry about any spills seeping in and ruining it. Whether you want to achieve a more bohemian look or a clean modern look, this rug will not disappoint.
Contemporary Dance Metal Poster
Before Wakanda, there was the Capoeira war dance. Born out of Brazil, some historians believe that this war dance is the foundation for what we now know as breakdancing. Combining skill, agility, and quick movement, this dance has been seen in movies, pop culture, and even video games. This poster has historical notes that detail the history of the popular fighting style. With a number of moves listed by position and the ranking of belt levels, this piece will thrill both a history buff and a sports enthusiast. The poster is set in sturdy metal that will help it keep its shape.
Opulent Africa Geode Table Art
Jerell Ganatt, who goes by the name IMITATIONBYJERELL, has garnered thousands of fans with his beautiful handmade pieces that are shaped in the continent of Africa. He uses wood and resin to create a one-of-a-kind conversational art piece that can be hung on a wall or turned into a beautiful table. This table would be ideal for your living room or wherever you choose to entertain people. It would stand out best in a brightly lit room, as the light reflects beautifully on the resin. The stunning piece will bring both beauty and pride to your home that can be enjoyed for years to come.
Our editors love finding you the best products and offers! If you purchase something by clicking on one of the affiliate links on our website, we may earn a commission at no extra cost to you.
---
---
Decorate
Access design inspiration that infuses personality and culture into your spaces.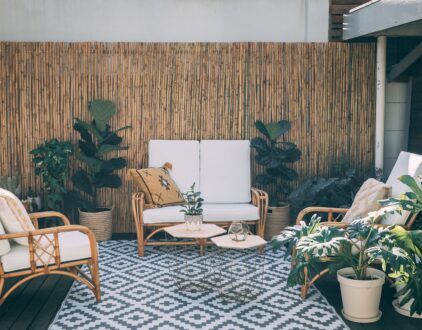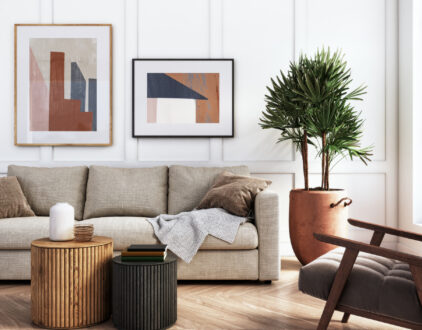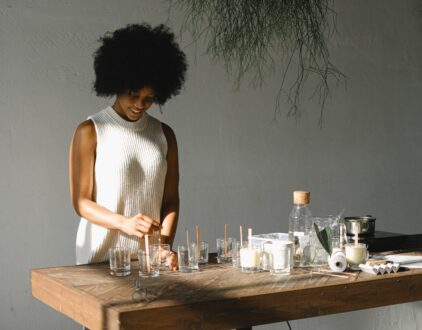 ---
Spaces
Whether it's luxury or ease, every area of your home should be as fabulous and unique as you.
FOLLOW ALONG ON INSTAGRAM
Find us on social for more home inspiration where culture, personal style, and sophisticated shopping intersect to help you create a home where you love to live.