Credenzas, with their polished look and versatile design, are a household furniture staple. They've got it all—style, storage and plenty of versatility. Whatever your aesthetic may be, there's a credenza that elevates it. Check out these picks if you're in the market for one or more of these innovative additions!
What is a Credenza?
A credenza is a piece of furniture that typically features a long, flat top, and a set of cabinets or drawers for storage. It often sits against a wall in dining rooms, living rooms, or offices. You might also know them as TV stands, storage cabinets or even entryway tables.
But credenzas are not just about storage; they also provide an opportunity for stylish displays. You can showcase your favorite décor items, family photos, or artwork on the top surface of the credenza. This dual functionality allows you to combine practicality with aesthetics.
Their uses are endless! Fun fact, originally, credenzas were used in dining rooms to serve food, and because of their versatile appeal, their purpose evolved over the years.
Contemporary Credenzas
For those with a modern aesthetic, contemporary credenzas are the way to go. These sleek and minimalist pieces often feature clean lines and a monochromatic color palette. Consider choosing a credenza with high-gloss finishes to create some luxury in your space.
Rustic Charm
If you're drawn to a more rustic or farmhouse style, you can still incorporate a credenza into your decor.
Look for credenzas crafted from reclaimed wood with distressed finishes. These pieces exude warmth and character, making them perfect for cozy living rooms and kitchens.
Mid-Century Marvels
Mid-century modern design enthusiasts will delight in the variety of credenzas inspired by the 1950s and 1960s. These credenzas often feature tapered legs, geometric shapes, and a mix of wood and metal accents.
Art Deco Elegance
For those who appreciate the opulence of the Art Deco era, there are credenzas that perfectly capture the spirit of this glamorous period. Look for bold and symmetrical designs, often detailed with luxurious materials like marble and brass.
Bohemian Bliss
For a more eclectic and bohemian vibe, look for credenzas with intricate patterns, vibrant colors, and a mix of materials. These pieces can add a playful and artistic flair to your space.
1
Walker Edison Fehr Modern
One of the standout features of this sleek, modern credenza is its robust construction. The top surface is built to support up to 100 lbs, making it ideal for displaying your cherished décor items, family photos, or even a small television. Meanwhile, the interior shelves are no slouch either, each capable of accommodating up to 50 lbs. This means you can store a variety of items, from books and office supplies to dinnerware and electronics, all in one convenient place. Organization enthusiasts will love the two adjustable shelves that come with this credenza. Customize the interior space to suit your needs perfectly. This credenza also features adjustable rubber feet, so you never have to worry about scratches or scuffs.
2
PHI VILLA Accent Cabinet
This is a piece that effortlessly bridges the gap between vintage charm and modern style. This credenza features a distressed appearance, where hints of paint have gracefully worn away, revealing the exquisite wood grain beneath. It's like owning a slice of history that's been rejuvenated for today's decor. Whether it graces your foyer or living room, it strikes a perfect balance between classic design and rustic charm. Handcrafted using quality materials like fir wood, MDF, and fir veneer board, this cabinet marries form and function seamlessly. With three doors, it offers plenty of storage space for your living room, laundry, pantry, or wherever you need to tuck away items.
3
Mid Century Modern TV Stand with Storage
This piece seamlessly blends contemporary and mid-century styles, featuring a beautiful natural ash wood finish with a geometric design in warm grey and inlaid brass accents. It's not just a TV stand, it's a piece of art that levels-up your space. The sideboard comes with two cabinet doors and shelves, with ample space to keep your belongings organized and clutter-free. The tip-on cabinet doors are designed for simplicity and safety, requiring just a light touch to open. This is especially handy in smaller spaces. Versatility is another strong suit of this product. Place it in the hallway, kitchen, or behind a sofa – it brings a retro and vintage style wherever it goes.
4
FAMAPY Credenza Sideboard Buffet
Get ready for a refreshing update that will transform your living space into an art-deco HQ. This piece introduces a captivating new design element with a round waving texture at the center and semicircle gold metal handles. The result? A visually stunning experience that effortlessly marries elegance and brightness in your home. Each drawer and side door is equipped with a pop-up device. A gentle press is all it takes for them to gracefully pop open, giving you seamless access. And if you want to customize the sensitivity, simply rotate the knob on the pop-up device to achieve your desired effect. With two side cabinets, one large middle cabinet, and two small drawers, you can effortlessly organize your spices, bowls, plates, bottles, wines, food containers, knives, and more.
5
Two-Piece Weselon Accent Cabinet
This credenza combines bohemian charm with modern aesthetics, resulting in a piece that radiates elegance. The decorative carving finish adds a depth and dimension to any room, while the surface relief process on the doors makes this sideboard unique and luxurious. Made from high-quality MDF wood, it features waterproof, scratch-resistant, and wear-resistant qualities. The legs, constructed from sturdy pine wood, provide stability and durability. They're more than capable of supporting microwaves, mixers, blenders, and even coffee machines. Additionally, these legs keep the cabinet elevated from the ground, effectively preventing moisture damage. Its versatility shines through as it seamlessly transitions from a console table to a corridor table, entrance table, buffet cabinet, or even a sofa table.
Our editors love finding you the best products and offers! If you purchase something by clicking on one of the affiliate links on our website, we may earn a commission at no extra cost to you.
---
---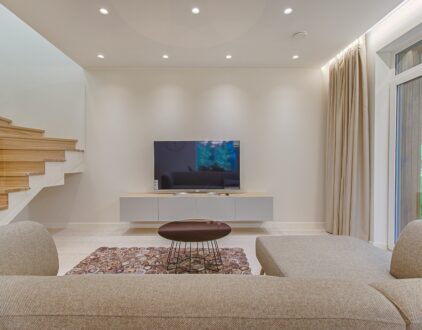 ---
Spaces
Whether it's luxury or ease, every area of your home should be as fabulous and unique as you.
FOLLOW ALONG ON INSTAGRAM
Find us on social for more home inspiration where culture, personal style, and sophisticated shopping intersect to help you create a home where you love to live.