It's easy for your entryway to become cluttered with your everyday items as you come and go. When you leave your home and return, the first thing you do is remove or put on your shoes. As you may know, having shoes by the door is a convenience, but it can also start to pile up quickly. Fortunately, you can avoid the clutter and use these entryway shoe storage ideas to keep your front area looking chic at all times.
Entryway Shoe Storage Ideas
Shelving Units
A shelving unit is a great option for organizing shoes in your entryway because it provides multiple levels of storage without taking up too much floor space. By using the shelves to store shoes, you can easily see all of your options and keep them off the ground, which can help to keep your entryway clean and clutter-free. Additionally, you can add hooks to the sides or back of the shelving unit to hang coats, scarves, and other accessories. This way, you can maximize your storage space and keep everything you need for heading out the door in one convenient location.
Shoe Dividers
If you have a lot of people in your household, a simple coat rack may not work for you, so you might have to get a bit more creative if you want to keep the shoes in your home organized by the front door. For large families, you can consider using shoe dividers, or very small cubby compartments specifically for shoes, in your entryway. Sure, it may resemble a small kindergarten class, but it is aesthetically pleasing, and you won't have to search for shoes every time you want to leave.
Baskets
Sometimes you may prefer things more low-key, in which case you should consider using woven baskets that you can store underneath tables or near the door if you want to keep things more discreet and hide your shoes away. Baskets are often a cost-effective storage solution compared to more elaborate shoe organizers, which makes them an attractive option for various budgets.
Benches
Having something multifunctional is always a win in the home, so if shoes clogging up your entryway is an issue, consider adding a bench. A bench will help curb the clutter near your front door, and it's a great place for people to sit while they put their shoes on. With a bench, you can put shoes and other items that tend to clutter quickly inside the bench or in baskets underneath, depending on the bench.
---
---
Spaces
Whether it's luxury or ease, every area of your home should be as fabulous and unique as you.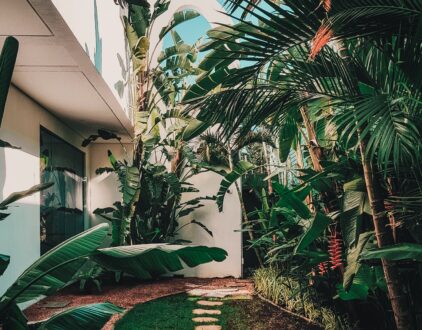 ---
Spaces
Whether it's luxury or ease, every area of your home should be as fabulous and unique as you.
FOLLOW ALONG ON INSTAGRAM
Find us on social for more home inspiration where culture, personal style, and sophisticated shopping intersect to help you create a home where you love to live.