When it comes to creating a living space that truly feels like home, the power of personalization cannot be overlooked. The little details—like the color palettes and textures we choose—help make a house feel like a home. A great way to achieve this is by incorporating customizable pieces into your interior design. One brand that has been making waves in the world of home decor is Felt Right.
100% Customization
With its innovative felt wall tiles and diverse selection of 19 shapes and sizes, coupled with a palette of 35 colors (and growing), Felt Right empowers homeowners to tap into their creative side. These tiles can be mixed and matched to form unique patterns, which allows for a bespoke design experience that truly reflects your personal design style. Whether you're a maximalist, minimalist, or somewhere in between, there is a felt tile design to align with your vibe.
The Functional Canvas
The beauty of Felt Right's tiles extends beyond their aesthetic appeal. These tiles offer practical solutions to common household challenges. Their sound-dampening properties can reduce noise by up to 35%—a feature that is especially beneficial for home offices. These tiles are pinnable, providing a chic alternative to conventional cork boards. All this, coupled with the brand's commitment to sustainability, as evidenced by their use of at least 50% recycled plastic in their tiles, makes Felt Right a conscious choice for the modern homeowner.
A Palette of Possibilities
Felt Right's expansive range of colors, shapes, and textures opens up a world of possibilities, allowing you to craft a space that is truly your own. The rich, wool-like texture of the felt fabric adds warmth and depth to any room, while the tile designs create a cohesive visual experience that is both modern and timeless. Whether you're looking to design a bold statement wall or simply add an artsy touch to your living space, Felt Right has you covered.
Design Made Easy
The process of creating your unique wall design is super simple with Felt Right's user-friendly online Design Studio. Here, you can browse through a gallery of designs, mix and match tile shapes and colors to create your own masterpiece, and even save your designs for future reference. The studio also provides an option to review and print your patterns to ensure your design aligns with your space before making a purchase.
Keep scrolling to discover some of our favorite designs from Felt Right.
Nectar Customizable Felt Design
Elevate your bedroom's ambiance with these captivating felt wall tiles. Tailored to your taste, this design breathes life into mundane spaces. Whether you're seeking to mirror a pre-existing color scheme or craving a fresh, new aesthetic, Felt Right ensures 100% customization. If you want to tweak the size, pattern, or color, simply select "Customize this Design" to make modifications. Head to the Design Studio to craft bespoke patterns using various shapes and colors.
Buffalo Check Customizable Felt Design
Transform your living space with this eye-catching felt wall tile backdrop, designed to make your TV truly pop. The tiles create a dynamic contrast, turning an ordinary wall into a statement piece. As friends gather around to enjoy games or watch the latest show, this backdrop enhances the visual experience and nurtures deeper connections. Opt to enlarge or minimize these tiles, switch up patterns, or explore a spectrum of colors to resonate with your room's vibe.
Lily Pad Customizable Felt Tile Design
This striking felt wall tile design transforms an ordinary wall into a masterpiece. Its geometric patterns and playful circles not only provide acoustic benefits but also double as contemporary artwork, infusing the room with artistic flair. It's a testament to how innovative design solutions can elevate a space. This design works really well in dining areas, making everyday meals an immersive experience.
Our editors love finding you the best products and offers! If you purchase something by clicking on one of the affiliate links on our website, we may earn a commission at no extra cost to you.
---
---
Decorate
Access design inspiration that infuses personality and culture into your spaces.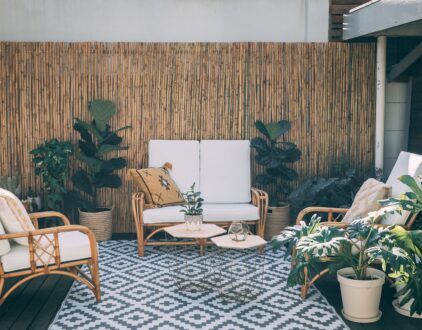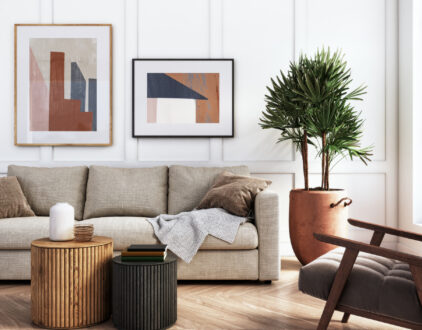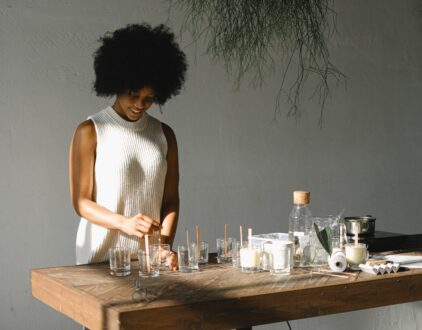 ---
Spaces
Whether it's luxury or ease, every area of your home should be as fabulous and unique as you.
FOLLOW ALONG ON INSTAGRAM
Find us on social for more home inspiration where culture, personal style, and sophisticated shopping intersect to help you create a home where you love to live.