If you're looking for a way to elevate everyday living at home, try a tasting room. Few spaces evoke as much allure as a dedicated sampling space. Tasting rooms are excellent home additions for those who revel in the art of savoring, whether it be the rich notes of wine, the delicate aromas of specialty teas, the complex flavors of aged whiskey, and even the rich tastes of gourmet chocolates. Having a space in your home to indulge in these pleasures is the epitome of luxury. Beyond catering to personal tastes, having a bespoke tasting room in your home can be a space for relaxation and a sophisticated setting for hosting guests.
Here's what you need to know about designing a tasting room at home:
Choose Your Location Wisely
The location of your tasting room is an extremely important factor. If you're going to be focused on wine or whiskey tasting, basements and cellars are the best choice due to the temperature and humidity levels. If your tasting room will be focused on teas or chocolates, a bright sunroom is ideal. Choose a location in your home that complements the delectable you will be tasting.
Invest in Storage
Having quality storage goes beyond aesthetics — it's needed for preservation. Invest in built-in racks or climate-controlled cabinets when storing wines and whiskeys. Store high-quality teas in drawers lined with airtight containers to maintain freshness.
Furnish for Relaxation
Prioritize comfort and relaxation in your tasting room by opting for plush seating. Add a table for displaying your tasting selections and ergonomic seating that encourages seating for hours of indulgence.
Add Lighting To Make the Difference
Lighting has the power to set the vibe in a tasting room. Having soft, adjustable lighting is the best choice. For a tasting room that focuses on wine, clear lighting is ideal for seeing the true hue of the beverage. Set a cozy atmosphere with dimmable overhead lights or sconces. Pendant lights over a tasting table add a touch of elegance.
Design Everything With Intention
Your tasting room is a reflection of your personal taste and design style. When designing your tasting room, think about the regions your favorite indulgences come from. For example, if you're into Japanese teas, a minimalist decor with a zen touch would be perfect. A fan of French wine? Gilded mirrors and opulent furniture is great for setting the mood.
Set the Vibe With Technology
Sound and visuals are important when setting the vibe in your tasting room. A sound system playing soothing tunes or a wall-mounted screen showing scenic vineyards can elevate your tasting room experience. Add finishing touches like a reference book or digital tablet for noting tasting impressions.
---
---
Spaces
Whether it's luxury or ease, every area of your home should be as fabulous and unique as you.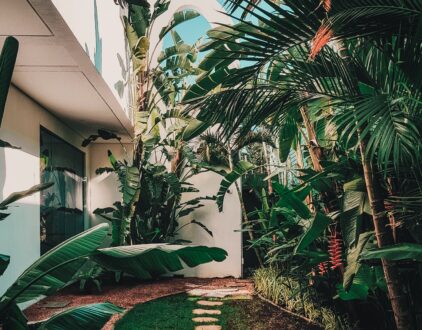 ---
Spaces
Whether it's luxury or ease, every area of your home should be as fabulous and unique as you.
FOLLOW ALONG ON INSTAGRAM
Find us on social for more home inspiration where culture, personal style, and sophisticated shopping intersect to help you create a home where you love to live.