If you're a parent who works from home or has small babies, you know how messy your living room can get. That's why toy storage organizers for your living room are a must. As many Millennials transition into parenthood, having an organized space can help you balance adulthood and parenthood with less overwhelm.
Finding toy storage organizers that don't disrupt your decor may sound like a daunting task.
Shopping for Toy Storage Organizers for Your Living Room
View this post on Instagram
Children can be messy at times, and they love to hangout out and play in spaces with adults. After a while, the living room starts to look like a playroom. You want a balance between your living space and your child's safety. These storage organizers offer multiple uses.
When looking for toy storage organizers, you might opt for wicker baskets and wood pieces. Wicker and wood complement most decor pieces. You won't have to worry about trying to conceal them when it's time for you to entertain adults or hop on a Zoom call.
Baskets with handles can also be handy, and they come in endless designs.
Parents need all the help they can get, which is why Home & Texture found some attractive and high-quality toy boxes that will look great in any living room. Check out the toy storages that made the list.
Jump to Products
---
Raffia Storage Baskets
These Rice by Rice storage baskets will make any child and adult happy. These baskets are handmade and lightweight, making them a breeze to move from room to room. These baskets are available in three sizes: small, medium, and large. However, you may want to buy all three as a set because they can really liven up a room with their eye-catching, vivid colors and details. Your child will enjoy cleaning up their toys with this fun basket.
Wooden Storage Box On Wheels
This Wooden Storage Box On Wheels is a storage organizer that can be personalized for your child. You can choose between blue and pink as your color option, and it can hold up to 88 pounds. Children will enjoy putting their toys away and riding the little wooden bus around as they clean up and play in the living room. This storage bin also is easy to assemble and comes equipped with a screwdriver to ensure your wooden box is safely put together.
Delta Children Deluxe Toy Box
Although this storage box is not as inconspicuous as other storage organizers on this list, it's equally effective. The Delta Children Deluxe Toy Box has a selection of characters that children adore. From Spider-Man to PAW Patrol, these boxes will hold your child's toys and last for years. The deluxe toy box is made out of quality wood that has been engineered to withstand heavy and large toys. It also has a slow-close lid to prevent those little delicate fingers from being hurt as toys are put away. Kids also can use this toy box as a table for coloring because of its flat surface.
Anthropologie's Butterfly Basket
This Butterfly Basket from Anthropologie is truly a work of art. It is made out of soft cotton. This basket will add a ray of sunshine to any room. The playful tassels are a subtle blush pink, which makes this basket stylish and chic. The embroidery features butterflies in various colors that are easy on the eyes, which makes this basket perfect for a centerpiece basket for your living room or sitting area. It's a great alternative to a typical wicker basket to keep kids' toys out of the way. The basket is slightly whimsical, but not too over the top.
Cloud Floor Basket
If you need a beautiful basket for your child's stuffed animals and toys, you're going to love this basket. The Cloud Floor Basket  is a toy basket that looks charming in any corner of any room. Made with an iron frame and woven with wicker, this basket can hold a decent amount of toys while making any room look serene. For babies and tots, this is a great basket for smaller items with a depth of almost 20 inches. For kids who are a bit older, this could be a great basket for easy access to blankets and other naptime accessories.
RiverRidge Home Storage Bench
If you have school-aged children, this may be a better option for you. This RiverRidge Home Storage Bench has several different uses. It's practical storage that could also double as a reading nook, making it perfect for a living room. It features four cubby compartments that you can use to add books, toys and other children's items. The storage bench can hold up to 75 pounds, so your little one can sit on top of it to read a book or watch TV. It comes in eight bold colors, so you can coordinate it properly with the decor you already have.
Our editors love finding you the best products and offers! If you purchase something by clicking on one of the affiliate links on our website, we may earn a commission at no extra cost to you.
---
---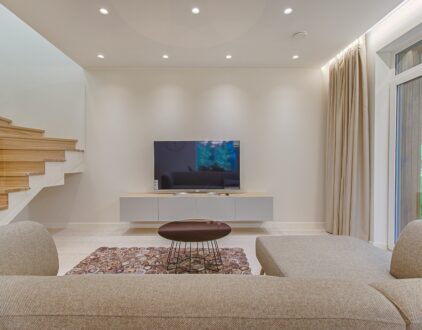 ---
Spaces
Whether it's luxury or ease, every area of your home should be as fabulous and unique as you.
FOLLOW ALONG ON INSTAGRAM
Find us on social for more home inspiration where culture, personal style, and sophisticated shopping intersect to help you create a home where you love to live.