When we think of buying a bed, twin, full, queen, and king-sized beds usually come to mind. However, these aren't the only beds that are out there. Whether it be a California King, a Texas King, or a Wyoming King bed to name a few, these beds certainly tend to take up a lot of space, really only making them compatible with larger-sized bedrooms and guest rooms. If you're thinking about adding an oversized bed to your bedroom, there are definitely a few things to consider, such as the number of sleepers, room size, sleeper body size, price, and maneuverability.
All in all, oversized beds, no matter the size, add a dose of luxury to any space, but what exactly constitutes as too oversized? Ahead, are some of the biggest beds that are out there, including the biggest bed in the world.
What is a Texas King Bed?
Fits 3-4 people comfortably.
Texas King Beds are usually  80 inches wide and 96 inches long. This bed is considered the second-largest bed in the U.S. and is 4 inches wider than king-sized beds. They are 4 inches wider than California King beds and are also substantially larger than bigger standard sizes. If you are in need of a tad more room while sleeping or are looking to add a few more sleepers to your bed, this one may be the right one for you.
What is a Wyoming King Bed?
Fits 2-3 people comfortably
Wyoming King Beds are 84 inches wide and 84 inches long and are considered the third largest beds in the state following the Texas King. The mattress dimensions are 8 inches wider and 4 inches longer than a standard king bed, making it a good choice for something slightly larger than a regular King or California-sized bed.
What is an Alaska Bed?
Fits a family of 4-5 comfortably
Serving as the largest bed size in the world, Alaska beds are 108 inches wide and 108 inches long and are named after the largest state in the U.S. These beds are usually the longest and widest out there, which serves as the perfect family bed.
Other Large Beds To Consider
King
If you're looking for a large bed but don't want to sacrifice space, king-sized beds are a great option. King beds are usually 76 inches wide and 80 inches long and are the same size as queen beds but a full 16 inches wider.
California King
California king beds are great for taller sleepers and add a dose of oversized luxury to a space. California king beds are bigger than king-sized beds and are 4 inches narrower and 4 inches longer.
Split King
Split king beds are usually the same size as regular king beds but include two twin mattresses instead of one king bed. This gives sleepers a good amount of their own individual space with their preferred mattress type and firmness.
Alberta King
Alberta King beds are 96 x 96 inches and are actually bigger than a Wyoming king but not as common. These beds are great for partners as you'll have a ton of room to space out, cuddle with a partner, and a pet or relax solo.
The Biggest Bed In the World: The Extra Large Family Bed
Fits 6-8 people comfortably
Extra Large family beds are usually considered the largest beds in the world, measuring 144 inches wide and 84 inches long — these beds are the same length as a California king but are essentially two California Kings pushed together. Extra large family beds are great for multiple-family households and can fit up to 6-8 people comfortably!
---
---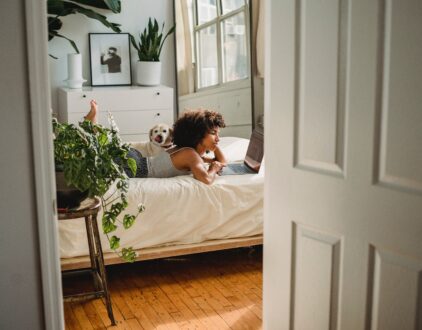 ---
Spaces
Whether it's luxury or ease, every area of your home should be as fabulous and unique as you.
FOLLOW ALONG ON INSTAGRAM
Find us on social for more home inspiration where culture, personal style, and sophisticated shopping intersect to help you create a home where you love to live.