Your bedroom is your safe space. Creating and designing a space that makes you calm and comfortable is important. Furniture, bedding and lighting are all important factors to think of when designing and decorating your bedroom, but one of the most important factors to consider is color. We all know that color can either make or break a room, and you want to choose a color that represents calmness and stillness, otherwise, it makes relaxing and winding down in your room very difficult.
Green is a versatile and calming color. Not only does this color bring you closer to nature, but it'll also make it easier to fall asleep if you have a green room. Sage green is an incredibly popular color that we've seen lately in fashion, beauty looks and home makeovers. This calming color is incredible because it is so versatile. You can go with the option of painting an entire bedroom sage green, using different patterns or block colors, and pairing different colors and types of furniture with this color. Wood furniture, along with different colors like black, white, rustic orange and pink work well with this color.
Here are ten sage green bedroom ideas.
Sage Green and White Bedroom Ideas
Wood with Sage Green
Another idea for a sage green bedroom is to add wood decor and furniture. The contrast of the wood and the brown coloring pair really well with the sage green bedroom color. Touch this space up by adding a few wooden nightstands, a wooden dresser and wooden home decor. To take things up a notch further, add a wooden sliding barn door.
Black with Sage Green Bedroom
Another simple yet effective way to decorate a sage green bedroom is to add the color black. This color is simple, pairs well with sage green and is easy to style with this color. Purchase black nightstands, dressers, curtains or light fixtures to add a darkened tone to the room. Adding style touches like black pendant lights, a dresser with a desk or black vases with flowers adds a subtle look.
Clean and Simple
Do you still want to use a sage green bedroom idea without breaking the bank? Try painting the walls a sage green color, but keeping decor simple and clean. This style is perfect for the minimalist who wants as little as possible in the room. All that's needed are a few basic furniture pieces (reference the styles above), maybe a table or desk, a bookshelf, some curtains and a few other basic accessories like vases, flowers, lights, coffee table books, etc.
Color Block
Add a bit of color to a sage green bedroom by incorporating a color block design. There are so many different ways to do this. A few ideas are to paint half of the wall sage green and paint the other half a different color. Painting every other bedroom wall works for the color block effect too. For those looking to add a little bit more to this design, experiment with different shapes and multiple colors. Since color blocks are a versatile sage green bedroom idea, using a color that pairs well such as white, black, brown, light pink, peach or orange are great colors to use.
Funky Decor
Nothing personalizes your space more like adding your own touch of funky decor! Adding a little bit of funk showcases your personality and this new home decor trend is all over TikTok. A few ideas that people have been adding to their sage green bedrooms are textured lamps, cool rugs, lego shelves, textured and colorful mirrors, funky wall art, lego flowers, cool tables, pool noodle headboards, artsy pillows, hand chairs and more. Using funky decor gives you the opportunity to have fun while decorating your space.
Sage Green Bedroom Within a Tropical Oasis
Sit back, relax and sip on a cocktail in the tropical oasis that is your bedroom. Add in tropical-themed bedding and decor to imagine yourself on vacation while in your room. Colors like flamingo pink, grass green and turquoise pair well with this aesthetic. Wall art with palm trees, flamingos, margaritas, seashells or the beach will add some flair to the room and transport you on a tropical island.
Kid-Friendly Spaces
If you have kids, you want to make sure that a sage green bedroom works for them. Multiple brands have crowned green as the shade of the year, so this color is well-loved by everyone. To design a kid-friendly space for a sage green bedroom idea, start by adding pops of color to the room and kid-friendly decor. Colors like yellow, orange, pink and red would look nice in a kid-friendly setup. Adding stuffed animals, a bookshelf with toys, colorful rugs and a few cool posters of whatever they like will have your kids wanting to be in this space all the time.
One With Nature
Sage green is the perfect bedroom color to be in touch with nature. This type of green works well in contrast with other shades of green and other nature-like colors like orange and brown. Add a wallpaper of banana green leaves, a few wood furniture pieces and wall art. To give the room more of that nature-like aesthetic, add a bunch of plants (fake or real), and use fake fruit as decor. Hang some fake leaves from the ceiling or add a few small plants to your windowsill to create a growing plant effect.
All the Colors for Your Sage Green Bedroom
Explore all the colors of the rainbow. For this sage green bedroom idea, utilize sage green by either painting the walls this color or using sage green furniture. Using a sage green couch or bed and painting the walls a rustic orange, yellow, pink or white is a great way to decorate your room in sage green without using this color to paint. Refer back to the color block section if you want to use sage green and multiple colors to paint the walls. If you really want to add some color, paint your walls a sage green color, then paint a design over one or multiple walls. Add a rainbow, or your favorite flowers or take some wallpaper and add it to one or two walls and paint the others in sage green. This bedroom idea is your chance to explore, create art and use all of your favorite colors!
---
---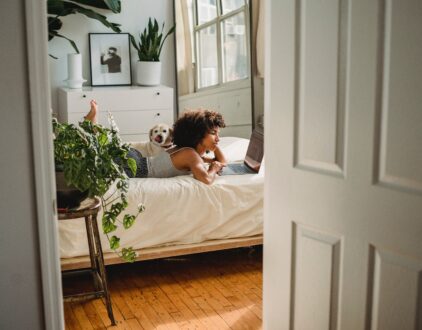 ---
Spaces
Whether it's luxury or ease, every area of your home should be as fabulous and unique as you.
FOLLOW ALONG ON INSTAGRAM
Find us on social for more home inspiration where culture, personal style, and sophisticated shopping intersect to help you create a home where you love to live.