Decorating in a small space, especially around a TV and furniture can be a challenge. Even interior designers and those with a love for design may struggle figuring out how to decorate this space. For most people, having a TV in your space is important for hosting movie nights and parties, or finding a good TV show or movie to watch while eating dinner. Your living room is essentially one of the most important spaces in your home.
Whether you live in a studio apartment, a tiny house, a one to three bedroom, or a regular home, working your design space around your TV is important so that your small living room doesn't feel cluttered or uncomfortable. Here are some small living room ideas with a TV to make your space feel like home.
Camouflage Artwork TV
A popular TikTok trend, the camouflage TV, is a cute way of blending your television with your decor. Hang a TV frame above your fireplace or on your wall and add some artwork frames around the TV to make it look like a painting. When the TV is not in use, turn on some artwork for a nice aesthetic.
Blended In
Blend your television into the wall for a seamless living room design. This small living room idea with a TV makes for more space for shelving and furniture in your room. Design this space by inserting your TV into the wall and putting furniture around it. The good thing about this space is that you can use an L-shaped couch, chairs or a rectangular couch.
In a Large Shelf
If you have a lot of shelving space, but don't know how to utilize it, adding a television to the middle of your shelving space is a good way to utilize space. You can also use this space to add other decor pieces such as photos, vases, souvenirs, candles, artwork and anything else that fits your living room aesthetic.
Opposites Attract
Opposites attract in this design space. For this small living room idea, mount your TV on the wall or put it on a television stand. Add a large painting or canvas artwork on the wall across from the television. For the design space, add a white couch and maybe some shelving if it can fit in your small space. The artwork provides a nice focal point to the living room and balances out the television in the space.
Above the Fireplace
Hanging your television above the fireplace is a smart way to utilize space in your small living room. This idea is perfect for those who have extra artwork, furniture, or decor they want to display. Not only is this idea one of the most used ideas for a small living room, but it also makes for an easier design as you can place your furniture and couches in front of the fireplace.
Color Combinations
Using bold color combinations can redirect the eye and have your family and guests focus on the color scheme rather than the television in the living room. With this space, it's important to add colors that will bring you and your guests joy and comfort. Statement colors will make the space stand out and adding furniture and shelving according to the color scheme will create a bold room.
A Maximalist Space
For the maximalist who wants everything in a small space, making sure your design isn't overpowering or cluttered is important. For this space, shelving is your best friend and go-to. Adding a few shelves to keep your decor and prized possessions will make your maximalist space feel more home-like. This design space also works for those who want more than just a couch in their living room. An L-shaped couch along with comfortable seating is a perfect fit for a maximalist space. Including a rug in the living room will also tie everything together.
A Bookshelf Haven
For the book lovers who want to showcase their love of books and create a niche space in their home, a bookshelf is the perfect addition to a small living room with a TV. For this idea, you'll want a built-in bookshelf on your wall, which you can install using items from your local home improvement store or hire someone to install for an easier effort. After the bookshelf is installed on the wall, the fun comes with filling up the space with your favorite books. For this shelf, leave a rectangular open space at eye level from your couch to include the television. Decorate the surrounding space with artwork, vases, collectibles, candles and furniture to your liking.
Simple Design
One of the easiest ways to design and decorate for a small living room idea with a TV is to stick with something simple. This could include just using black, white or gray furniture and simply decorating it around your TV. As for how the television looks in the space, either mounted on the wall or on a stand is the best way to create a simple design. Adding a rug and some decor will give this space a personal and cozy touch.
---
---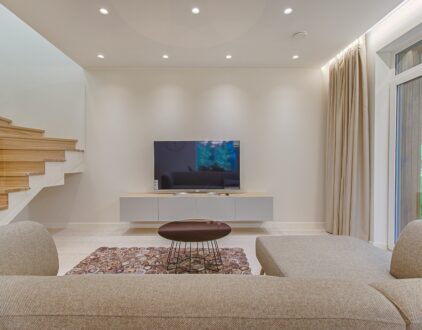 ---
Spaces
Whether it's luxury or ease, every area of your home should be as fabulous and unique as you.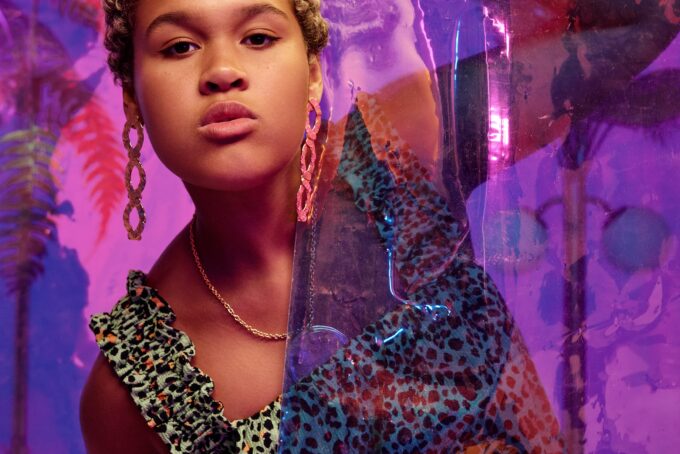 FOLLOW ALONG ON INSTAGRAM
Find us on social for more home inspiration where culture, personal style, and sophisticated shopping intersect to help you create a home where you love to live.