The belief that less is more is the name of the game when it comes to minimalist design styles. One of the biggest obstacles when transitioning to a minimalist aesthetic is finding storage solutions for your belongings. You may be stuck between wanting to get rid of all of your items and finding a storage alternative, but there is a solution. Storage beds have become popular among minimalists and with good reason. These beds include built-in storage like drawers and shelves to maximize space in a bedroom.
Here's why having a storage bed is essential for minimalist design styles:
Reduces Clutter
By using a storage bed, you can get rid of clutter and simplify your life. These beds are perfect for storing seasonal clothing, shoes, bedding, and towels.
Maximizes Storage Space
With a storage bed, you won't need as many pieces of furniture in your bedroom. Having a storage bed in your room can eliminate the need for dressers or cabinets, which take up room in your space.
Maintains a Minimalist Aesthetic
Storage beds come in a variety of styles that complement your aesthetic. There are storage beds that are sleek and discreet, perfect for executing a minimalist look.
Improves Functionality
Gone are the days when you're digging through piles of clothes or sorting through a chair with items stacked on it. Storing pieces in your storage bed makes quickly accessing your items easy.
Cost Effective
Invest in a storage bed, and you'll save money on unnecessary purchases like additional storage furniture. These beds usually have enough space for your storage needs, so you won't have to look for other storage solutions in your bedroom.
If you're on the hunt for a storage bed for your bedroom, keep scrolling.
Jump to Products
---
Full Size Bed Frame With Two USB Charging Stations
You never have to worry about struggling to reach your phone charger from bed because this bed's built-in USB ports save the day. The ports are on both sides of the headboards and are as convenient as they are innovative. There are drawers on each side of the bed so you can store seasonal clothing, linens, towels, and more. The drawer at the end of the bed provides extra storage for a tidy bedroom. The hard wire mesh drawers are crafted to prevent small items from dropping. This bed boasts a very modern design and is supported by five solid metal legs. The black finish makes it super chic for a minimalist bedroom.
Upholstered Platform Bed Frame With Lifting Storage
If drawers don't match your aesthetic, consider lifting your mattress to find extra storage. This is a great option for small homes or spaces with limited storage options. The hydraulic lifting mattress platform allows you to save floor space and has ample storage space. You won't have to worry about doing the heavy lifting as the hydraulic lifting mechanism does the work for you. This is a great mattress for storing suitcases, seasonal clothing, and other items in a discreet way. The design is very simple yet beautiful, and it looks great in a minimalist room. Add a plant and sleek night tables in your room for a pop of color and personality.
Storage Platform Bed Frame With Drawers
This storage bed is made from solid pine wood and brings a unique look to your bedroom. Each of the six drawers has a faux leather handle, adding to its minimalist aesthetic. This bed also had four built-in shelves, three compartments with doors, and two pullout shelves. The pullout shelves are great to use as nightstands where you can place books, an alarm clock, or a resting place for your coffee. With this bed frame, you won't need to add extra pieces to your room. There is also space under the slatted base for your clothes, suitcases, and linens. The great thing about this bed is that it can fit as many items as a closet. The open shelves allow you to place decor like coffee table books or knickknacks to bring together the aesthetic.
Bookcase Headboard With Charging Station, Platform Storage Bed
If you're a book lover, this is the perfect bed. The built-in bookcase in the headboard allows you to store your favorite books and optimizes space in your room. You can also use this headboard space to place small decor items, photos, trinkets, and lighting. There is also a convenient built-in charging station and two USB ports. You can charge your laptop when working from your bed, as well as your phone, so you're always comfortably plugged in. This platform bed has storage underneath. You can store your luggage, containers with seasonal clothing and accessories, shoes, and linens. It's the perfect bed for a minimalist who loves good design.
Storage Bed With Wardrobe And Drawers
This bed is the ultimate hack for a minimalist bedroom. It looks like a normal bed, but you can actually fold it into a cabinet. This truly maximizes the space in your room. You can have an office or living space by day and then pull your bed down to transform it into a bedroom by night. The white space on the back of the cabinet is perfect for hanging artwork. The folding rod is durable and can withstand long-term folding use. There is also a wardrobe that comes with this bed. There are three drawers so you can store clothing and linens. You can also hang a few shirts or pants in the wardrobe.
Our editors love finding you the best products and offers! If you purchase something by clicking on one of the affiliate links on our website, we may earn a commission at no extra cost to you.
---
---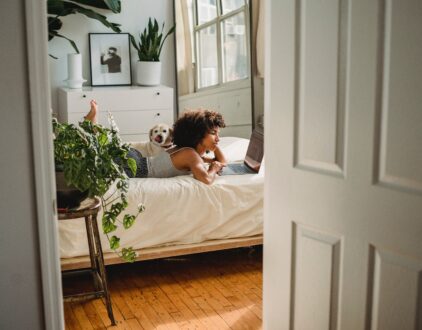 ---
Spaces
Whether it's luxury or ease, every area of your home should be as fabulous and unique as you.
FOLLOW ALONG ON INSTAGRAM
Find us on social for more home inspiration where culture, personal style, and sophisticated shopping intersect to help you create a home where you love to live.